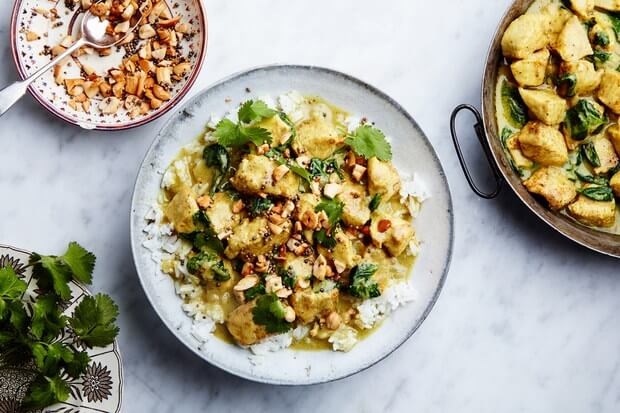 28 Jun

Quick Cooking With TSMC (Part 1)

We've all had those nights when we're too tired/lazy to cook, but still want to eat nutritious, homemade food. On nights like these, one wishes for that magic formula that can turn ingredients into one delicious meal with no effort. Now, we don't promise you magic, but we have something that comes quite close.

This recipe for Coconut Chicken Curry In A Hurry will surprise you by how easy, fast and delicious cooking can be. All you need is TSMC's quality chicken, few other simple ingredients and 22 minutes!

Serves: 4

Ingredients

2 pounds boneless, skinless chicken breasts or thighs (about 4 breasts or 7 thighs), cut into 1″ cubes – available on www.seafoodmeatco.in

2 1/2 teaspoons curry powder

1 1/2 teaspoons salt

1/2 teaspoon freshly ground black pepper

2 tablespoons virgin coconut or vegetable oil (plus 2 teaspoons; optional)

1/2 medium onion, chopped

1 (400g) can coconut milk (preferably full-fat)

1 (2 ½ inch) piece ginger, peeled

4 garlic cloves, peeled

1/4 cup raw cashews, chopped (optional)

1 1/2 teaspoons yellow and/or black mustard seeds (optional)

5 ounces baby spinach

Coriander leaves with tender stems and cooked rice or naan (for serving)

Preparation

Toss chicken with curry powder, salt, and pepper in a medium bowl.

Heat 2 Tbsp oil in a large skillet (at least 12 inches in diameter) over medium-high. Add onion and cook, stirring, until softened, about 2 minutes.

Purée coconut milk, ginger, and garlic in a blender until very smooth.

Add chicken and coconut milk mixture to skillet and cook, tossing occasionally, until chicken is cooked through and sauce has thickened, 7-10 minutes.

Meanwhile, if using, heat 2 tsp. oil in a small skillet over medium. Add cashews and mustard seeds and cook, stirring, until fragrant and lightly browned, 2–3 minutes.

Immediately transfer mixture including the oil to a small bowl.

Fold spinach into chicken mixture and cook until wilted, about 1 minute. Divide among 4 bowls. Top with coriander and cashew mixture, if using. Serve with rice or naan.

This recipe was taken from Epicurious. Visit http://www.epicurious.com/recipes/food/views/chicken-coconut-curry-in-a-hurry for the full recipe.

TSMC's range of meat and seafood is sourced and butchered by our in-house procurement team and expert butchers. First, it arrives chilled and is handled and stored at the required temperature to make sure the produce is free from bacteria or any harmful contamination. It is fresh, cut to order and prepared especially for you. After the cleaning, the meat and seafood cuts are individually vacuum packed or tray packed and sent to you in an insulated food box with ice packs ensuring that it arrives cut-fresh to your home.

For more information, please write to us at info@seafoodandmeatco.in or call us on 022-24934242.