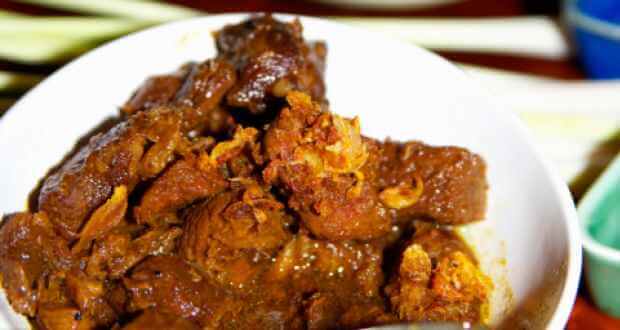 10 Apr

How to make Sesame Meat Curry

One of the main things we must keep in mind during this lockdown is to stay healthy. With limited mobility and little to no opportunity for recreation, eating well keeps one's mental and physical health in place.

Keeping this aspect in mind, we are sharing easy to make dishes that are rich in protein and very easy to make: –

Sesame Meat Curry Recipe

Ingredients
1 kg meat, cut into 2″ inch cubes
1 level Tbsp ginger paste
2 level Tbsp garlic paste
1 tsp salt
1 Tbsp jaggery, grated
1 Tbsp poppy seeds
8 large cloves garlic
6 green cardamom seeds
2 tsp fennel seeds
4 Tbsp oil
1 tsp mustard seeds
5 dry red chilies
1 tsp chili powder
1/2 tsp turmeric powder
3 Tbsp shredded ginger
1 tsp sesame seeds, roasted
2 tsp lemon juice
2 tsp coriander, chopped
Process
Combine ginger, garlic, salt and jaggery together. Rub over meat and set aside for 1 hour.
Roast poppy seeds, garlic, cardamom, fennel and cinnamon on a tawa. Grind.
Heat oil in a large pan. Add mustard seeds and whole chilies. Add meat and fry until brown.
Add chili powder, turmeric, ginger strips and ground spices. Stir well.
Add 1-cup water. Bring to a boil. Cover and seal. Simmer for 1 hour.
Sprinkle over roasted sesame seeds and stir in lemon juice.
Garnish with coriander.
At Freshpick, we deliver fresh meat, eggs and fish at your doorstep even during the lockdown. This is to ensure you continue to make good food for you and your family. Visit www.fresh-pick.in and order today! Delivering across Mumbai.